Post by Iris✭Airisu on May 4, 2020 16:24:55 GMT -6
It had been a tough couple of weeks for Ashley and her team since the incident at Celestial Tower. Dawn had retreated to her Gate of Space to keep an eye on various places all over the world. After regaining their memories from the Silver Millennium completely, Hotaru, Iris, Zoey, and Serena retreated back to the Solaris Space Colony. Setsuna had went back to her Gate of Time to check out the various timelines that would lead to Crystal Tokyo and various alliances with the Neo Solaris Kingdom. Usagi and Minako went back to their normal High School Lives in Juban.
A news report came on the screen.
"Breaking News, Special Report from Galar!" The News Caster said.
"A dark aura has descended over the Galar Region and monsters are running amok. There is also an eerie red Aura that has combined with the Dark Aura turning the sky over the Wild Area of Galar into a Fierce looking Dark Red Sky where giant Pokemon are running amok from what seem to be dens. Whenever trainers venture into the Wild Area and head to these so-called Pokemon Dens, they suddenly have all their energy drained. And a mysterious figure with Auburn Hair is overseeing this and absorbing the energy. Not to mention, four other people are assisting this Auburn-haired figure overseeing all the disaster and carnage. They all five say they are looking for something called the Bronze Crystal for someone they call their great leader. Where are the Galactic Guardians and the other Sailor Guardians that have been protecting this world? Have they abandoned us?" The News Caster continued.
Ashley is sitting with her four friends, watching the news report. Darcy and Duplica on one side of her and Casey and May on the other. Ashley breaks down into tears.
"No it can't be! Silver Rose is working for the Dark Kingdom! Is that where he has been for the past two weeks! He's supposed to be engaged to me! Why is he doing this!"
Casey and Duplica see the distress that Ashley is going through as does Pikachu, who had been spending most of his time as Orion now. Casey and Rei contact Ami, Makoto, and Rose for help. Duplica contacts Vance, While May and Darcy contact Stephen, Ryuusei, and Terrence. No one contacts Tetra thinking that she wanted some time away from the action. Misty and Giselle said that they wanted to sit things out for a while so they could focus on the problems of Pokemon Tech and Cerulean Gym.
****************************************************************************************************************************************
The more time Dawn: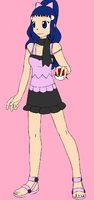 spent in the Gate of space, the more she got worried about Ashley. She couldn't put her finger on it, but she felt that Ashley was in distress. She then decided that she would join Ashley and Company. The time she had traveled with Ashley, she became like an older sister to her. She wanted to be there for her older sister, so she decided to join Ashley and everyone back in Japan. "I can't let Ashley face this alone. I have to help the others bring her spark back."
With that, Dawn transported herself back to Ashley's house as she arrived just as the news report was wrapping up. Seeing Ashley in distress, she joined the other four in comforting her.
OOC: SS Jupiter, SS Mercury, Rose, Ryuusei, Vance, Terrence, and Stephen. As well as anyone else not tagged that wants to join in. This thread marks the beginning of the second Arc of Season I of Galactic Guardians where most of the action, perhaps all the action will take part in Galar, which is where the Dark Kingdom's hideout is. Ashley looks like this at the moment:
Casey's current appearance as well as May's appearance haven't changed at all and neither has Darcy's appearance. The same is true for Duplica.