Post by Ashley✭Ketchum on Aug 30, 2019 12:51:07 GMT -6
OOC:
There won't be a battle in this thread at all. The main focus of this thread is the postponed Victory Party for Ashley. It's just a hang out and relax thread. Yes the six Sailor Guardians that were involved in the final battle with Beryl will have memory leaks and wonder when the heck that happened.


BIC: Two Months Ago...
Sailor Solaris is facing Queen Beryl/Metalia all alone after her allies have fallen, at least the Sailor Guardians of her Solaris Court, Sailor Titania, and Prince Shigeru. The Moon Kingdom Sailor Guardians, as well as Terrence, Ryuusei, Stephen/Machulk, and Rose were not involved in the Final Battle with Beryl much at all they were cleaning up Stray Youma. It is up to her to take down Queen Beryl/Metallia. She has switched into her Princess Solaria Form: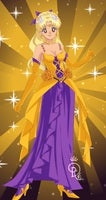 Queen Beryl is upset, all of her Dark Energy was gone because she used it all, she had enough Dark Energy to end Princess Solaria for good. "Princess Solaria, I will not be humiliated by anymore Sailor Guardians whether they're from the Moon Kingdom or the Solaris Kingdom! I will finish you off once and for all!"
"We will just see about that Beryl I will take you down in honor of my friends that you knocked out! Time for you to say good bye!"
Queen Beryl/Metallia Cackled as she fired her biggest attack that she had ever done knocking Princess Solaria down to her knees.
"I will not give up! Please everybody give me your assistance! Please help me out!" Princess Solaria Pleaded to the Spirits of her group. A bright light shined and the Solaris Court Surrounded her on all sides. Even the spirit of her love Prince Shigeru appeared.
"As you wish Princess Solaria!" All the Spirits of her court and Prince Shigeru exclaimed as they all put their hands on her wand.
"Rhea Power!"
"Triton Power!"
"Ganymede Power!"
"Io Power!"
"Solar Prism Power!"
"Titania Power!"
Prince Shigeru smiled and hugged Princess Solaria over her shoulders and around her neck. Several lights surrounded her as Princess Solaria called on her Bronze Crystal and made a wish.
"Please Bronze Crystal grant my friends and me the life of normal girls and give Gare-Bear a normal life too. Please let them remember our friendship and how close we have been over the years. I also wish for everyone in the world to remember me as Ashley and not Ash. I was born a girl and am proud of it! Please make this happen I'm begging you. I also wish for Queen Beryl to finally Rest In Peace for good." Princess Solaria wished.
The Bronze Crystal Responded and granted her wish. From now on she will always be known as Ashley Satoko Ketchum a Young Lady from Pallet Town and nothing else. Though the Galactic Guardians of the Solaris Court would face bouts of DejaVu whenever they encountered the Moon Kingdom Sailor Guardians. As for the Galactic Enforcers and Galactic Ambassadors, since they weren't involved in the final battle with Queen Beryl, except for Dawn, they remember being Sailor Guardians. Dawn was with Princess Solaria as Sailor Titania during the final battle with Beryl, so she was affected by Princess Solaria's wish. At the moment she is just a normal Pokemon Coordinator just like May and Darcy. Iris, Serena, and Zoey remembered their lives as Sailor Guardians because they weren't involved in the final battle when Princess Solaria made her wish.
The Dark Kingdom was defeated once and for all at last! While the Galactic Guardians and their allies remained close after this battle, any memory of Ashley, Darcy, Duplica, Casey, May, and Dawn being Sailor Guardians and Gary being Prince Shigeru/Silver Rose was forgotten for the time being. However, Ashley and Gary continued to date. The two have had crushes on each other since they born. The beginning of their Pokemon Journeys drove them apart making them rivals, while Ashley's defeat of Gary in the Johto League ended the rivalry. Though the two still love to tease each other. Ashley and Company still keeps in touch with Usagi and the others because they became friends and promised to remain so no matter what. Especially Makoto and Casey. May continued to maintain contact with Minako, while Minako was careful not to mention anything about the Sailor Guardians. Ashley and the Solaris Court as well as Dawn and Gary don't remember anything about their battles with Queen Beryl, Queen Metallia, and the Dark Kingdom. However, Teams Rocket, Aqua, Magma, Galactic, Plasma, Flare, and Skull still remained threats, but not to the extent of the Dark Kingdom. As for the Moon Kingdom Sailor Guardians, they were unaffected by Princess Solaria's wish as well. The same can be said about the Non-Sailor Guardian Allies that took part in the final battle with Beryl/Metallia and the Dark Kingdom. They were told by Princess Solaria to retreat while they still could.
Orion and Andromeda, the two Advisers of the Galactic Guardians were in a meeting with Misty and Giselle, Orion is the first to speak up, "well Beryl has been defeated thanks to Ashley's Bronze Crystal, however it came at a cost, Ashley, Darcy, Duplica, Casey, May, and Dawn don't remember being Sailor Guardians, and Gary has no idea he was Silver Rose." Andromeda, Misty's Azumarril Adviser, continued where Orion left off, "so that means the Gate of Space is inaccessible until such time where everyone gets their memories restored because of a major threat."
Two months would pass uneventfully, except for the long overdue Alola League Victory Party for Ashley. Orion, and the Sailor Guardians of the Moon Kingdom as well as Zoey, Serena, and Iris made a pact never to speak of the Dark Kingdom or Sailor Guardian stuff in the company of Ashley, Gary, Darcy, Duplica, Casey, May, and Dawn. Little did Ashley and her Solaris Court as well as Dawn know, that the peace would not last forever, but the peace would last long enough for this victory party.